"Here are some opportunities for you to tell our audience about your products."
Banners
See below for specifications
$50
per month (3 months min)
Videos
See below for specifications
All banners and videos will be seen on the following websites: ThePetEngineer.com and ThePetProductReviews.com
Material Submission:
Banners: Due 7 days prior to run date.
Videos: Due 7 days prior to run date.
Send creative files attached, not embedded. Upon payment you will be redirected to a page where you can attach your files.
Text ads must be sent formatted exactly how they are supposed to show.
Linking URL - Linking URLs must be domain name based and cannot be the IP address (i.e., http://207.123.456.78).
IMPORTANT: Due to a recent update to Google Chrome, we are suggesting HTML5 creative be used instead of Flash. We do not accept Flash files. We cannot accept HTML5 assets to serve directly in our ad server.
VIDEO SPECS:
Our server doesn't host videos. Send us the link of your video.
Our website is responsive. All videos will be placed at the LEFT side. See picture below.
mp4 (H.264 encoding with any profiles or levels and AAC or HE-AAC audio codes)
Video length: up to: 15 seconds maximum.
Dimensions: 480x360 (4:3 Standard) or 480x270 (16:9 Widescreen).
Frame rate: same as source or 1/2 of source (15 to 30 fps).
Data Rate: Video-600kbps, Audio-48kbps, Total-648kbps
Keyframe: every 30 or 60 frames (2 seconds).
Video Ad is clickable, please supply a click-thru URL. . iPhone does not support click function.
Video should not include a leader.
Sample rates above 44. kHz do not work on all players so they will be re-sampled.
Normalize the audio tracks to standard levels.
Banners
To achieve the best look on desktop, tablets and mobiles we accept the following:
Our website is Responsive. All banners will be placed in the LEFT side of the page. See picture below.
File Types: GIF and JPEG
Dimensions: 300x600, 300x250, 300x50
GIF Animated: Length: 15 seconds, Max. Loops - 3
SPONSORED LOGO: Static GIF or JPEG, 130x65 pixels, 15 kb file load
We do NOT accept Flash Ads
File Size: 500KB Max
ADDITIONAL CREATIVE GUIDELINES
Files must match ad size and conform to specifications outlined herein.
Expansion can begin again on click, but must close with click.
Files with a white background must have a minimum 1-pixel border to
differentiate ad from editorial content.
The Pet Engineer is not responsible for any changes to the ad creative itself.
Files must have branding.
No fake HTML or simulated interactivity.
No obscene or otherwise objectionable images.
Files cannot use the 'Publication' name or logo without pre-approval.
Ads click through to provided URL in a new browser.
Placement
Your ad will be placed according to the type of product, i.e., if your product is dog related, then the banner will be placed in the dog product review page. See example below. Ads will be placed on left side of the body or footer of the page.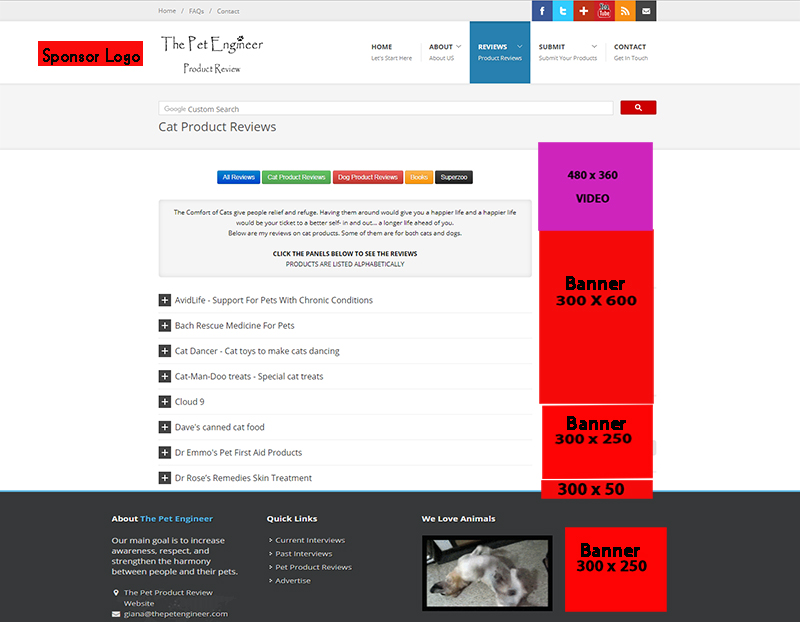 We promote our product reviews in the following palces
 wordpress, wordpress.comblubrry, Plazoo, Blogdigger, RSS Network, Digg, Rapidfeeds, Blinkx, Feedlisting, feedage, feedsee, RSSChomp, Rssmicro, Twingly, Crayon, rss-network, feedshark, Feedagg, Keegy, Millionrss, pingomatic, Readablog, Rssmotron, Urlfanx, feedlisting, feedmailer, twingly, Bloglines, Bloggernity, FuelMyBlog, PuppyURL, YouTube, Vimeo, DailyMotion, PetTube, Veoh, Break, and Metacafe.
DISCLAIMERS:
Click-through tracking is not available on the following advertising elements:
HTML advertising elements that use method="POST" for form submittal.
Rich media elements that use embedded or compiled URL information.
The Pet Engineer reserves the right to preserve the user experience of its sites, and reserves the right to remove any advertisement which is deemed annoying and/or harmful to our users at any time.
Services interruptions:
Advertiser agrees not to hold The Pet Engineer responsible for any liability, loss, cost, claim, damage or causes of action of any kind that it may suffer as a result of the transactions contemplated hereby, including but not limited to loss resulting from service delays and incomplete or interrupted service, regardless of cause or fault.
Truth in advertising / indemnification for liability:
The Advertiser is solely responsible for any liability arising out of or relating to the Banner or Video Advertisement, and/or any material to which users can link through the Banner or Video Advertisement. The Advertiser represents and warrants that any information found on URLs hyperlinked from the The Pet Engineer will not violate any criminal laws or any rights of any third parties, including, but not limited to, such violations as infringement or misappropriation of any copyright, patent, trademark, trade secret, image, or other proprietary or confidential information or property right, false advertising, unfair competition, defamation, invasion of privacy or rights of celebrity, violation of any antidiscrimination law or regulation, or any other right of any person or entity. Advertiser agrees to indemnify The Pet Engineer and to hold The Pet Engineer and its officers, directors, employees and agents harmless from any and all liability, loss, cost, damages, claims, or causes of action of any kind, including reasonable legal fees and expenses that may be incurred by The Pet Engineer, arising out of or related to Advertiser's breach of any of the foregoing representations and warranties.
Governing law:
This Agreement and the resolution of any dispute related to this Agreement shall be governed by the laws of the State of California without giving effect to any principles of conflicts of law. Failure by The Pet Engineer, or its affiliates to insist upon strict enforcement of any provision of this Agreement shall not be construed as a waiver of any provision or right.
Sole Agreement:
This page constitutes the sole agreement between The Pet Engineer and the Advertiser regarding this Web site. Any additional work not specified in this contract must be authorized by a written change order. All prices specified in this contract will be honored for six (6) months after payment be processed. This Agreement may only be modified, or rights under it waived by a written document executed by both. Violation of any of the terms and conditions of this contract may result in the immediate termination of your services with the Pet Engineer, at our discretion.
Payment:
All fees are payable in advance of the commencement of display of the Banner or Video Advertisement on ThePetEngineer.com and ThePetProductReviews.com web sites. All Advertisement fees are non-refundable. Payment are made though PayPal .
Once you press one of the buttons below you are aggreeing to the above-listed contract in its entirety.
VideoSize: 480x360 or 480x270
BannerSize: 300x600
$50
per month (3 months min)
BannerSize: 300x250
$50
per month (3 months min)
BannerSize: 300x50
$50
per month (3 months min)
SponsorSize: 130x65
$50
per month (3 months min)